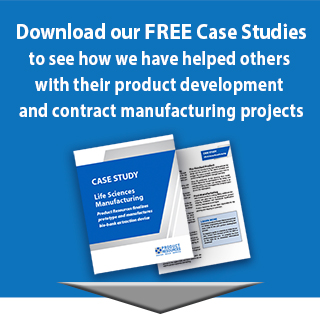 Fill out this form and get access to your Case Studies
Contract Manufacturing Services
Manufacturing Documentation 
For all the time and effort that goes into creating a working prototype, the real magic is found in the documentation.
Engineers are fond of saying "if there is no documentation, there is no product."
The reason is that no product can be produced in quantity with any consistency or repeatability without the detailed specifications and instructions that make up Manufacturing Documentation.
Product Resources provides Manufacturing Documentation with every project. We will create, maintain and update that documentation throughout the life of the product.
What is Manufacturing Documentation? 
Documentation plays a central role in every business – most often in the form of legal and financial documents.
But in manufacturing, "documentation" takes on a whole new meaning as it provides written guidance in the design, development and manufacturing of a particular product.
Through detailed and effective documentation, you improve your chances of producing consistent and repeatable finished products.
In the early stages of product development, you will need to develop various product design documents such as the Product Requirements Document (PRD) and the Design Input documents.
But once the design is finished and the prototype approved, Manufacturing Documentation needs to be developed to keep everyone informed about how the product will be put together.
The most common Manufacturing Documents are:
Component Documents – the Bill of Materials including off-the-shelf parts and custom parts
Assembly Documents – detailed instructions, drawings and procedures for assemblers and technicians
Testing Documents – specific test requirements and procedures for both internal testing and third-party testing.
Manufacturing Documentation is a critical factor in quality control as it outlines inspection and testing procedures at specific checkpoints in the manufacturing process.
Even after the product is built and delivered, the documentation continues with product changes, calibration schedules and maintenance updates – providing an ongoing record throughout the product's life cycle.
Let's talk about
Documentation
Product Resources CEO John Erickson and Mechanical Engineer Michael Dragonas share their insights on topics related to Prototype Development.
Go to Pilot Production –>