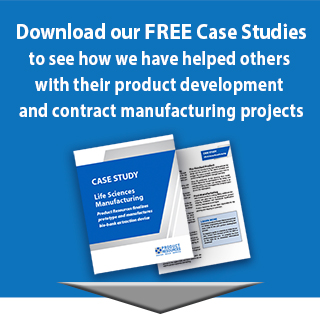 Fill out this form and get access to your Case Studies
Contract Manufacturing
From Design to Delivery – and then some
Product Resources is, first and foremost, a contract manufacturer that partners with original equipment manufacturers (OEMs), product design firms and innovation startups to turn their product ideas into fully functional and marketable products.
We build complex electronic products, process controls and instrumentation for use in the medical, biotech/life sciences, pharmaceutical and related scientific fields.
We take a comprehensive approach to contract manufacturing that covers the entire manufacturing process – from initial design to finished assembly and product delivery.
What is Contract Manufacturing?
At Product Resources, contract manufacturing is the umbrella term that describes the process that goes into building a product.
It's a process that includes:
We hold the following ISO certifications: ISO 9001-2015 (for design and manufacturing) and ISO 13-485 for medical device manufacturing.
Intrinsic Safety Design for Explosive Atmospheres
Product Resources also offers Intrinsic Safety design and manufacturing services (ISO/IEC 80079-34) for instruments, devices and other products to be used in explosive atmospheres.
We work in accordance with the key Intrinsic Safety regulatory requirements of the ATEX Directive (EU) and the UL and Factory Mutual guidelines (US).
Read more.
Let's talk about
Contract Manufacturing
Product Resources CEO John Erickson and Mechanical Engineer Michael Dragonas share their insights on topics related to Prototype Development.