The Product Resources FACTSHEET
An overview of design and manufacturing capabilities, applications, specifications and experiences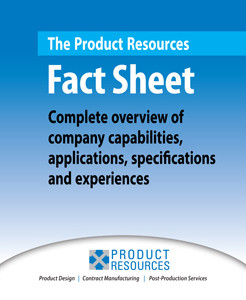 We know that many of the people who visit our website don't have time to browse around.
They need information – and they need it quickly and succinctly.
They need to know about our design and manufacturing capabilities, our technical applications and specification and our experiences.
In short, they want to know if we are a fit.
That's why we prepared The Product Resources FACTSHEET … so that you could leave with the information you need.
If you are in the process of reviewing contract manufacturers, please take a moment to fill out this form to download the FACTSHEET.
Thank you.
If you would like to discuss your project or contract manufacturing needs, please contact Paul Ermanski at 978-524-8500 or permanski@prodres.