Product Resources – Complex product manufacturing serving the scientific and industrial communities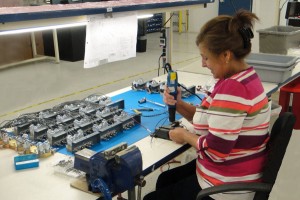 Product Resources is a product design, engineering and manufacturing company with expertise in designing and building complex scientific and industrial equipment.
Based in Newburyport, Massachusetts (USA), Product Resources brings a highly technical and multi-disciplined approach to product development outsourcing.
Our end-to-end product development solutions ensures seamless transition from design to manufacturing to field support:
Product design/engineering – prototype development, proof of concept, product testing, regulatory compliance
Contract manufacturing – complex product assembly and testing, short-to-medium volume
Post-production services/support – inventory management, replacement parts, maintenance, calibration, repair
ISO-certified product manufacturing
Recognizing the importance of quality, Product Resources has earned and maintained the following quality certifications:
ISO 9001-approved for engineering design, development, manufacturing and service – certified by TUV.
ISO 13485-approved for medical device manufacturing and service – certified by TUV.
ISO/IEC 80079-34 approved for engineering design, manufacturing and service, audited by TRaC Global, for equipment and instrumentation used in explosive atmospheres.
Complex product development
Clients turn to us when they want to build complex, technically advanced instruments, devices and other products.
Product deliverables may include one or more the following:
automation
robotic applications
integrated systems
electro-mechanical assembly
complex instrumentation
electronic systems
precision mechanical systems
Regulatory compliance
Every design and development project needs to move forward with one eye steadily focused on the appropriate regulatory requirements.
Which requirements you face will depend on your product and where you plan to distribute it.
Every product will be subject to a range of consumer protection, environmental, workplace safety and performance standards.
Compliance is needed throughout the product development process– from the suppliers' raw materials to the design and manufacturing process to distribution and supply chain management.
We work in accordance with all major industry standards such as CSA, FM, CE, and UL.  Our team has experience with regulatory agencies from all parts of the globe.
Our turnkey approach
Product Resources brings the entire product design and development process under one roof in our 33,000-square foot facility in the North Shore coastal community of Newburyport, MA – 35 miles northeast of Boston.
With our one-stop turnkey approach, we can reduce the inevitable risks of using multiple vendors for different stages in the design and development process.

When you collaborate with Product Resources, you can feel confident that your project will move seamlessly from one step to the next.
Our manufacturing facility – which can be easily expanded as needed – is equipped with a large, modern batch assembly area as well as work cells designed for continuous, higher-volume manufacturing.
Other features include:
21,000 square foot Manufacturing Plant
540 cubic foot Thermal Burn-In Room
High Power Test Stands
Automated Assembly Tools
High Volume Manufacturing Cells
Highly Skilled Employees
Complete ESD Protection
Fully Equipped Test Facilities
Complete Service/Repair Department
ISO 9001 Certified
ISO 13485 Certified
Automated Wire Prep Machinery
ERP Manufacturing Software
Call us with your questions
We welcome all inquiries.  If you are looking to outsource your product design and development process, call us and let's talk about your plans.
Even if it's very early in the process, we're happy to answer your questions and provide you with some initial guidance.
Contact Paul Ermanski at 978-524-8500, ext. 335, or permanski@prodres.com